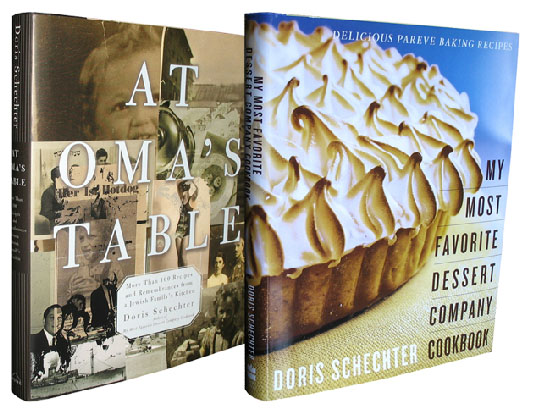 At Oma's Table
Sample Recipe
Vegetable Frittata - Makes 8 servings as a first course
You may wonder how a frittata came to be in a cookbook by someone who was raised in an Austrian-Jewish household in Queens, New York. Spending the first five years of my life in Italy, before we came to the United States as refugees, has forever made Italy a special place for me. I love Italy and go there often. It was, and still is, a haven for me - its food, its people, and many warm memories.
---
My Most Favorite Dessert Company Cookbook
Sample Recipe
My Most Favorite Sugar Cookies
Makes about 3 dozen 2-inch round cookies
Sometimes the simpler a cookie is the better it is, and these are simple and fun to make. Use small cutters for dainty cookies to serve with tea, or big ones for Halloween treats. Sprinkle them with colored sugars or frost them. Let children cut them out or bake a batch by yourself on a rainy afternoon. There is nothing like the aroma of the sugary dough as it perfumes your house.
My Most Favorite Food

Tuesday - Wednesday 10:00 am - 4:00 pm
Thursday - 9:30 am - 4:00 pm
Friday - 9:30 am - 2:00 pm.
Please place orders by 2pm for next day local delivery.
Please call for shipping options.
t 212-580-5130 or 718-806-1854   |   f 718-361-0288   |   Contact Us
37-22 13th Street, Long Island City, NY 11101
My Most Favorite Food does NOT claim to be a nut-free, dairy-free, soy-free, wheat-free, or gluten-free facility. For your own safety we recommend anyone with highly allergic reactions or Celiac Disease to take caution when consuming our products and at their own risk.